Description
29 CFR 1910.95 Occupational noise exposure and hearing conservation
The National Institute for Occupational Safety and Health (NIOSH) reports that about 10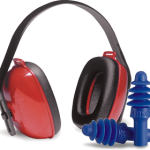 million workers nationwide incur permanent hearing loss, while nearly 30 million of us are exposed to dangerous levels in our day to day occupations.
OSHA compliance requires that all workers exposed to 8-hour time-weighted average (TWA) noise levels of 85 decibels (dBs) or above receive hearing conservation training annually.
žThis presentation covers the topics of noise exposure at work and away from work:
    The effects of noise on hearing
    Hearing protection – purpose, types and use
    Purpose of audiometric testing and how it works
    Your right to see noise measurement records and hearing test results
At the end of all of the lessons and the quiz, you will need to save and print your certificate.
NEW USERS register by filling in the necessary information during the purchase process.  Enter your username in this format (Firstname.Lastname example: John.Smith) and choose a password.  Write them down somewhere secure.  Be careful to keep them safe, they will allow you to track your progress and access your results (including your certificates).  You'll need to use your legal first and last names as you register, these will be placed on your certificate upon completion of your course(s).  After purchase, go to the "My Account " page found on the main menu bar.  Find your course and click on the title.
The approximate contact time for this course is 2 hours.
This course is eligible for 1 (one) St. Louis County, MO Mechanical CORE PEU credit.